Chicago Pneumatic Cordless Impact Wrenches
CP's new range of cordless tools gives you power, flexibility and autonomy without compromise. Always reliable and easy to use, CP's impact wrenches and drill drivers are built to become your trusted companion.
What if you could combine the performance of air tools with the mobility of cordless? That is exactly what CP is bringing to automotive and maintenance professionals. The new CP battery-powered tools offer the highest level of power and torque. Designed to be compact and lightweight, CP cordless tools provide maximum comfort, ease of use and flexibility.
About the New Cordless Power Tool Line
A Complete Range
Based on decades of expertise in building the right equipment for vehicle service and maintenance professionals, Chicago Pneumatic has developed a comprehensive range of battery-powered tools. Our ½", ¼" and ⅜" impact wrenches and ½" and ⅜" drill drivers cover the widest spectrum of workshop needs.
POWER & TORQUE
If you are used to air tools, you will be impressed with the CP cordless performance. A custom-designed motor and durable gearbox deliver the power and torque you need.
MOBILITY
With a CP cordless tool, your reach is endless. Portable by nature, our impact wrenches and drill drivers will travel with you from internal to external jobs. What is more, they are ideally suited for dimly lit and difficult-to-access places.
A GOOD FIT
Your power tool should be a natural extension of your hand. All CP cordless equipment comes with an ergonomic handle that fits perfectly. Switches are strategically placed for comfort and ease of use.
RUGGED
In and out of the tool box, dirty hands, greasy floors,… CP knows the demanding conditions your equipment has to endure. The components and housing of the CP cordless range were designed to provide maximum reliability and durability.
Battery
HIGH PERFORMANCE BATTERY
CP cordless tools come with the better battery in the business. The 20-Volt CP20XP and the 12-Volt CP12XP Lithium-ion provide twice the runtime of conventional batteries. Built for maximum durability, CP will keep you up and running longer.
2x Longer Run Time
Increases your productivity
Wide Temperature Working Range
-0.4° F to 122° F
-18° C to 50° C
Thermal & Current Overload Protection
Protection against over-heating and over-loading
Individual Cell Monitoring
Protection during charge and discharge
CP Battery Specifications
Model
Part Number
Voltage
Amp. Hour
Charging Time
Dimensions
Weight
V
Ah
min
in
mm
lb
kg
CP12XP
8940172263
12
1.5
30
2.0 x 1.81 x 3.42
51 x 46 x 87
0.41
0.19
CP20XP
8940172261
20
4
90
2.4 x 3.0 x 5.11
62 x 77 x 130
1.6
0.725
Maximum Initial Battery Voltage - measured without a workload - is 20 Volts. Nominal Voltage is 18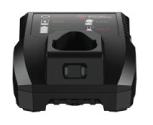 12-Volt Charger Specifications
Model
Part Number
Voltage
Amp. Hour
Charging Time
Dimensions
Weight
V
Ah
min
in
mm
lb
kg
CP12CHE 12V EU
8940172259
12
1.5
30
2.83 x 4.73 x 6.7
72 x 120 x 170
1.2
0.54
CP12CHU 12V US
8940172283
12
1.5
30
2.83 x 4.73 x 6.7
72 x 120 x 170
1.2
0.54
CP12CHA 12V AUS
8940172285
12
1.5
30
2.83 x 4.73 x 6.7
72 x 120 x 170
1.2
0.54
CP12CHK 12V UK
8940172284
12
1.5
30
2.83 x 4.73 x 6.7
72 x 120 x 170
1.2
0.54
20-Volt Charger Specifications
Model
Part Number
Voltage
Amp. Hour
Charging Time
Dimensions
Weight
V
Ah
min
in
mm
lb
kg
CP20CHE 20V EU
8940172262
20
4
90
3.6 x 4.92 x 7.48
91 x 125 x 190
1.58
0.72
CP20CHU 20V US
8940172286
20
4
90
3.6 x 4.92 x 7.48
91 x 125 x 190
1.58
0.72
CP20CHA 20V AUS
8940172288
20
4
90
3.6 x 4.92 x 7.48
91 x 125 x 190
1.58
0.72
CP20CHK 20V UK
8940172287
20
4
90
3.6 x 4.92 x 7.48
91 x 125 x 190
1.58
0.72